The example below is an Individual Letter Notice from the Membership Reports menu, but the steps apply to any Notice (letter, card or e-mail) in CDM+.
Begin by selecting Individual Letter Notices either from the Welcome to CDM+ Membership window or the menu.
From the Welcome to CDM+ Membership: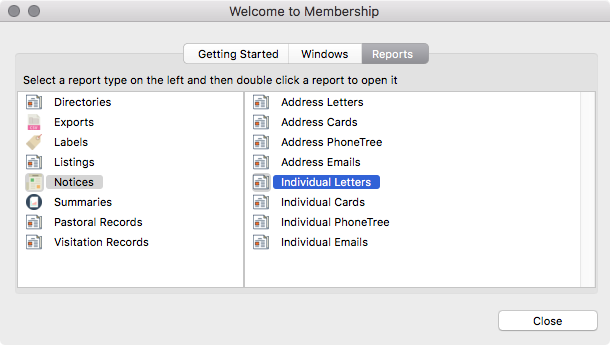 From the CDM+ Reports Menu: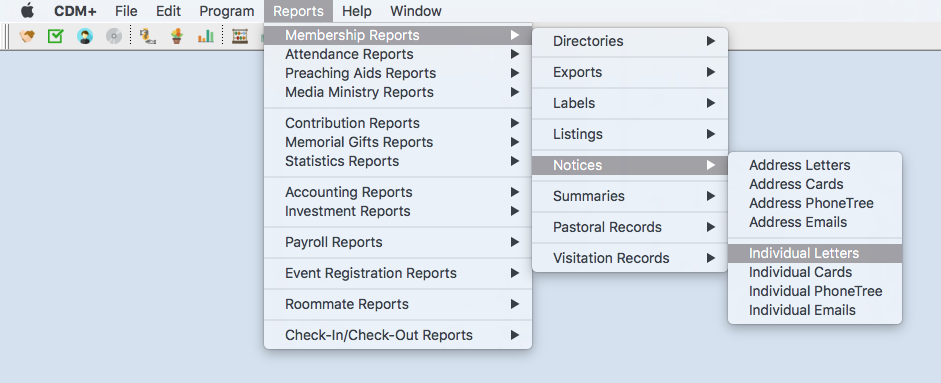 Begin by clicking Select/Add.

A new window opens and displays existing notices as well as notice categories.
Here, you may create a new notice, edit an existing notice, or duplicate a notice you previously sent. The Duplicate function is especially helpful if you wish to start with a previously sent notice that you know has the format and graphics you need. By duplicating it, you can edit one copy for your current needs and still preserve the original as a record of what was sent.
Choose Add, or Duplicate. NOTE: This is also where you would go to Rename or Delete a notice.

In this example, we clicked Add and CDM+ prompts us to Enter a name for this letter: